Wow.. we made it! The last post for my test tiles, and I'm so happy you've come this far with me. Thank you so much for reading these posts and following along.
This last post will be a bit different as I look at two triple combos to start. I realized afterwards that these would probably have come out better on dark clay with the Alabaster kind of acting like a sort of wash to make the other two glazes pop. On white clay, the results were about the same as if I hadn't added the Alabaster at all. Lesson learned. Next time I have a bag of dark clay out I might venture a few tests and see just how different the results are.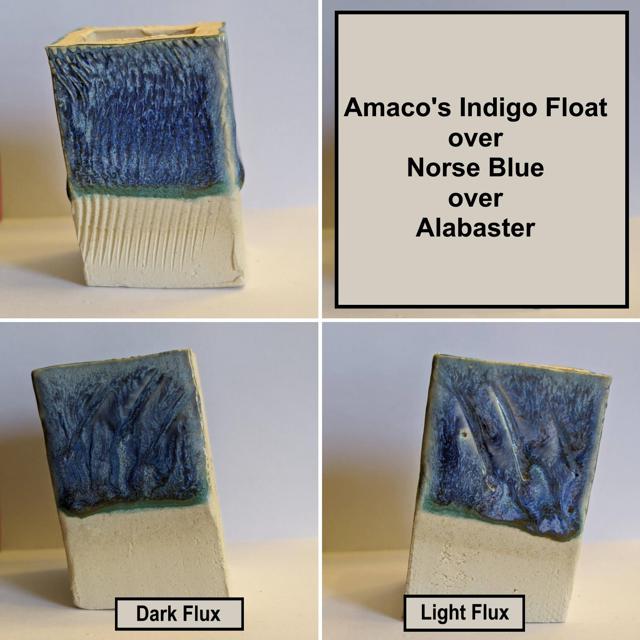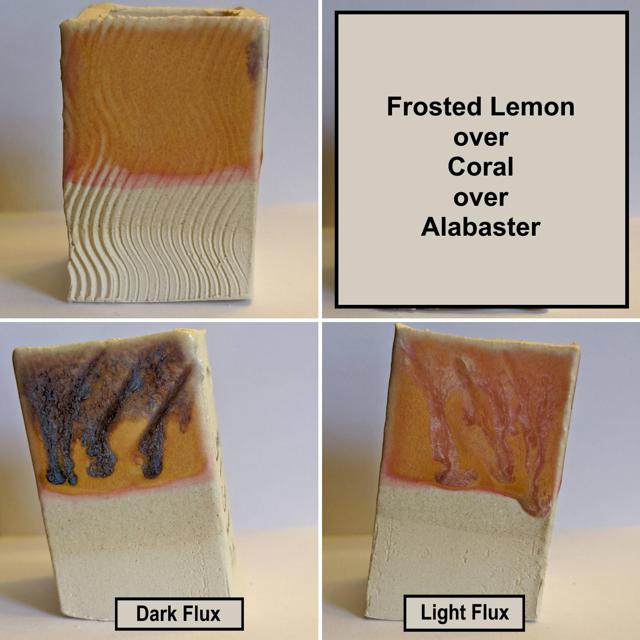 And that brings us to test tile #63: For this one I put three layers of Mayco's Stroke and Coat glaze called 'Wine About It' and then layered Azurite, Frosted Lemon, and Norse Blue. Stroke and Coat glazes are quite nice in that they act kind of like an underglaze, but they're glossy when fired to higher temperatures, so there's no need for a clear coat afterwards. It's very stable, and although the layering glazes ran a bit, there were some nice effects when they broke over texture. I'd love to test all the glazes over the Stroke and Coat glaze, but that would probably lead me to getting other Stroke and Coat glazes, which would mean more tests... and again its never ending. Although as I mentioned earlier, maybe a few posts back, I would like to make some more test tiles in the future once my shows are behind me - there's too many other things to focus on in these next few weeks - and I am already excited to share my next batch of results. So I hope you'll check back often and feel free to send me a message if there's anything specific you want to see; if I have the glazes, I'll test them. :)
And last but not least, feel free to check out the short video compilation I made of all these test tiles on my YouTube channel!
Thank you again so much for sticking around through these posts, and I hope you learned a lot or were at least inspired by something you saw. I'd love to see any combinations you come up with as well! One of the things that I truly love about pottery is the way that all potters (or at least most of us) are so willing to come together to share our experiments, whether they have good or bad outcomes, and we're all happy to learn from one another and keep pushing each other to keep moving forward. Potter communities are just the best! <3