Hello! I'm interrupting the glaze test blogs to write about the shows I participated in over the past two weekends. There's a lot I've been thinking about and above all, I'm feeling so grateful that I was able to get out and about again after all that's been going on in the world.
Two weekends ago I was up in Teaneck at the annual AUCC Festival selling my work, and overall there was a pretty good turnout. There were games for kids to play, food trucks, and other activities and vendors. I met a lot of friendly faces and sales went pretty well.. almost everyone who stopped at my table purchases something and it always makes me happy when my art finds new homes.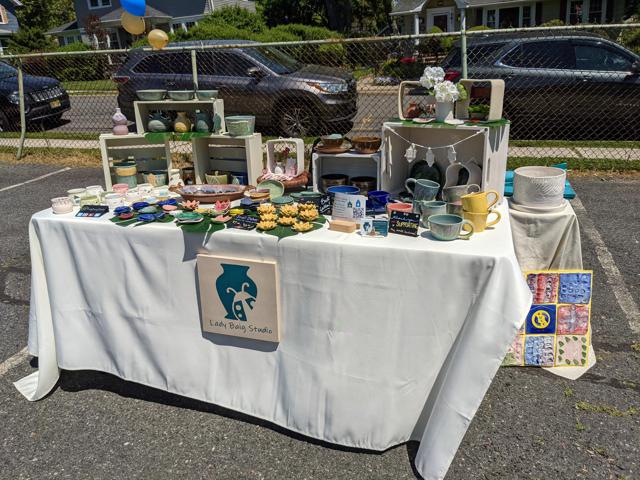 Then this past weekend I had a two day show down in Basking Ridge at the Farmstead Arts Show. Its one of the two annual shows with the Potter's Guild of NJ, and I had just joined in January of this year. I had met a lot of the members over Zoom meetings, but Saturday was the first time I had met any of them in person. They are, hands down, some of the friendliest people I have ever met. Everyone was excited to be getting outside and selling their work in person again, obviously, but even as a newcomer, I felt as if I had been with the guild for years already. I was paired up with another lady selling her beautiful hand built pieces, and it just felt so nice being around other people that share the same passion as I do again. I never felt like my work (or myself for that matter) was being judged, and we were all so genuinely happy for each other whenever anyone had a sale. So despite the weather being hot (better than rain!), and a few bugs here and there, I definitely had more fun and talked to more people than I had since the pandemic started. I left yesterday evening with a sort of show-high (which is still sticking around today) as well as half a dozen amazing pieces from some of the other potters, and a few less boxes of my own work. I'm already looking forward to doing more shows over the summer and participating in more guild events soon.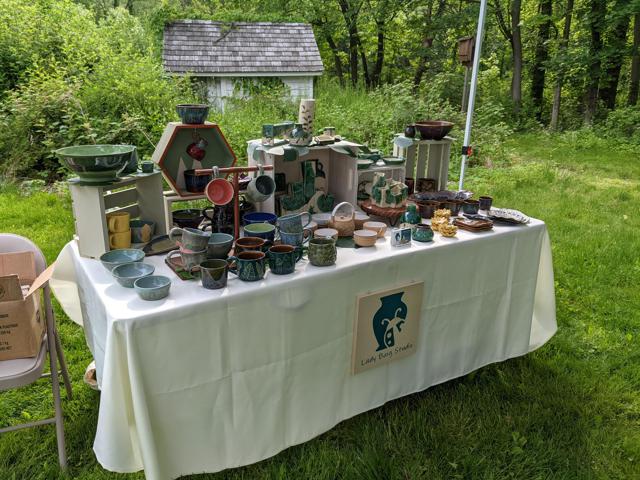 Thanks for reading! More glaze tests coming soon where I revisit some classics! :)